Beginners & Advanced Students Welcome
I welcome students of all ability levels. I will always make a lesson plan that suits your playing ability and understanding level.
My Experience as a Teacher
I have been playing Electric Bass across the U.K. and internationally for 13 years, covering the genres Rock, Pop, Funk, Jazz, Fusion and World and feature on several albums and studio recordings. My current work comprises of performing with the Rock band 'Sweet Crisis', Soul singer 'Ollie Lepage Dean', Jazz Fusion guitarist 'Chanan Hanspal' and wedding bands 'Bespoke Party Bands', 'Blue Lion' and 'Swagger'.
Originally self taught for 6 years, I received formal training from 2014 - 2017 during my studies at Anglia Ruskin University, Cambridge, U.K, and Ramapo College of New Jersey by world class bassists Tiago Coimbra and Tony Cimorosi, respectively. So far, my career highlights include numerous festival dates and tours with Ollie Lepage Dean and Sweet Crisis, such as the Cheltenham Jazz Festival (2017), Nanjing Jazz Festival (2018, performing 13 dates over 2 weeks) and Ramblin' Man Festival (2019). I also feature on the album 'Only Two Things Are Infinite' by Chanan Hanspal (2018), alongside Jazz legends Bill Evans and Mike Stern.
I was also classically trained on the Piano from 2009 - 2014 in Felixstowe by Chandra Grover, then until early 2015 by Phillip Mead in Cambridge. Nowadays I transfer my Piano skills to teaching and composing, although I did play Keyboards with Cambridge act, The Sound Of Pop Art, for 6 months in 2015 and feature on their album 'Drama', released in 2016.
More About My Lessons
I give great attention to detail, and I expect new students to do so too, particularly to rhythm, technique, posture and articulation as these can all give a piece of music its character and affect the way that you play.
I encourage students to find their own style too, however, and give them the options and tools to do so. Furthermore, I train students to equip themselves with the right skills so that they can become their own independent learners, including learning to read and write music notation and ear training.
For the bass, I can also offer help and advice on guitar and amp brands and setting/maintaining your instrument such as adjusting the truss rod and action, changing strings, cleaning your bass and what tools you need to carry these jobs out. I can also offer help and advice on purchasing effects pedals and how to use them both individually and in a signal chain.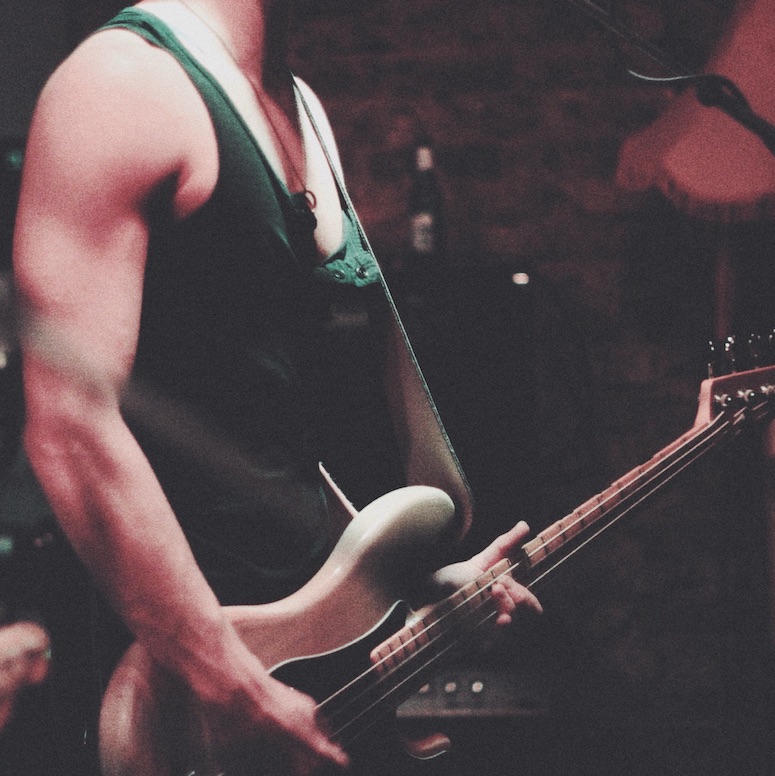 I became resonated with what I was hearing on the television and radio as a child, and I was also lucky enough to be surrounded by musicians (family and family friends) and had the opportunity to go to live music events at an early age. It took me a few years to finally settle on the bass and piano, but what has kept me going is the curiosity and knowing that there's a lot that I still don't know. Now as a teacher, I aim to get beginners started on their journeys or intermediate and advanced students to their next musical stage.
[email protected]
Frequently Asked Questions
How much do lessons cost?
My lessons are charged at £19.50 per half hour and £36.50 per hour for all students.
Where do the lessons take place?
My lessons are taken online from the comfort of your own home.
What ages do you teach?
I offer my tuition to students of all ages in a wide range of styles.
Do I have to attend lessons every week?
Weekly lessons are one of the best ways to imrpove as a player and improve your understanding of music.
What happens if I have to cancel a lesson?
Lessons cancelled with less than 48 hours notice will still be charged full price for the lesson.
Still have questions?

Get in touch
Location
Online via Skype, Zoom & More
Online Lessons
I currently use my iPad for Zoom/Skype lessons and have had no video or sound issues, but I can use my laptop + an interface, headphones and a clip on microphone should you want to hear me better. Upon your request, I can also record the lesson and send it to you afterwards, which I have found to be very beneficial to my students' learning. Furthermore, I can send you PDF files for exercises and transcriptions instantly over the online chat or via email prior to the lesson. I make sure that all other devices are off or on airplane mode so that they don't affect the bandwidth of the video.
Ready to start?
Get in touch now and start learning to play the bass online.
Bass Teacher
Matt Duduryn