Learn How To Scream Correctly
I like to teach my students how to scream or sing using the correct technique. You'll be able to maintain the power you need to perform without blowing out or damaging your vocal chords.
My Experience as a Teacher
Jamie is a vocalist based in the South West of England. She has been singing since a young age, however found her niche within metal in her early teens. She started to learn how to use her vocals in a harsh way; and through trial and error found our how to do this without hurting her voice.
She has since worked with artists such as Alestorm, Venator and Vortigern, as well as toured the UK and some parts of Europe. Her vocals have been compared to singers such as Dani Filth (Cradle of Filth), Randy Blythe (Lamb of God) and Alexi Laiho (Children of Bodom). However, she is able to replicate the sounds of other singers in the genre, as well as use her own unique voice.
Her preferred type of vocal is using a mixture of whistle register and fry vocal, to create eerie textures through her voice. She has mostly worked in the folk metal, black metal and melodic death metal genres. However, she has also worked with a synthwave producer (Venator), deathgrind/grindcore and punk bands, as well as offering compositions and instrument playing to some independent projects, including working on a video game soundtrack. She is also the lead composer for her band, Vortigern, as well as the only lyricist for this band. Jamie is available to help teach you how to sing harsh vocals, including fry vocals and guttural. She can also teach you how to compose lyrics for metal songs.
More About My Lessons
We will go across the basics of the vocal style, what you want to achieve, who you are influenced by and anything else you need. During our lessons, we'll choose a song that you want to sing, and we'll pick it to pieces session by session. At the end you'll know the techniques and care routine to be able to sing this song, and be able to sing it.
I believe that I am pretty easy going and have plenty of experience teaching both advanced students and beginner students. Together we will create a lesson plan that best suits you as a harsh vocalist or screamer to ensure you are always always learning material that you are passionate about. I also really focus on offering longevity so you are able to sing harder for longer.
It is my job to help you develop good techniques so that you can preserve your voice and get a better tone for those harsh vocal styles. What we learn is entirely up to you but I have experience and can teach singing/screaming in Metalcore, Classic Rock, 80's Thrash, Death Metal, Deathcore & many more.
How To Take An Online Lesson
Here is some information to help you get prepared to take your online guitar lessons.
Speed Test, is a very useful tool as having a stable internet connection is one of the most important parts to these lessons. Here you will be able to see what your speeds are and we will only need a speed of 3mbps to have a stable enough connection for the lessons.
As well as a stable internet connection you will need to have access to some kind of electronic device that has a camera on it. This could be things like a laptop, tablet or a smartphone. Many things have cameras on them nowadays so once we have access to one of these you are ready to go.
Once you have a device ready to go, there are many services we can use to connect for the actual lessons. The most common and reliable services tend to be Zoom, Skype or Facetime for Apple device users. There are other options too so if these don't work for you for any reason please just let me know and we can go through other possible options together.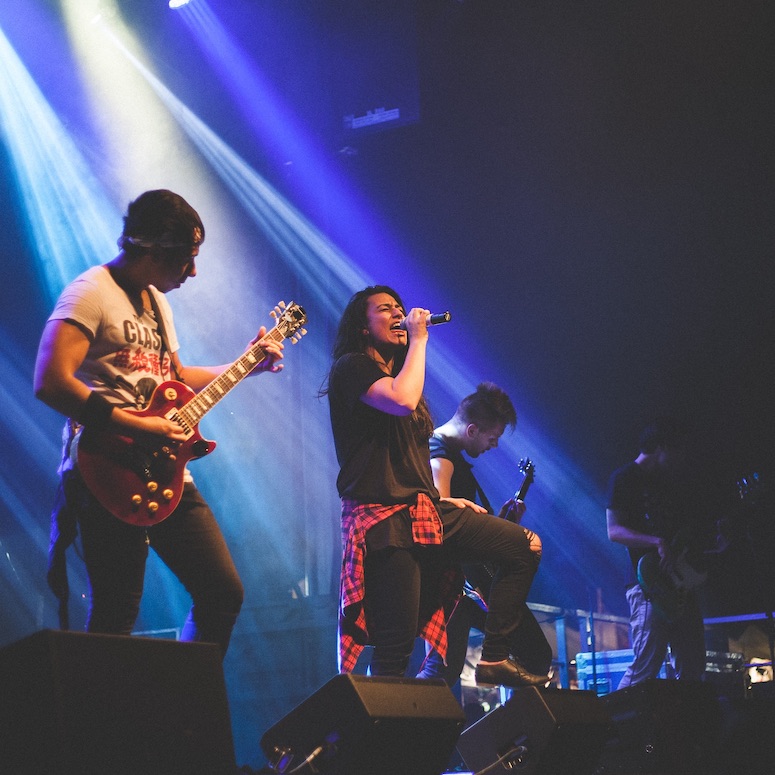 I can help you both improve your singing and screaming using both a wide range of exercises and techniques that I use on a daily basis. I believe that learning should be fun and I will always create an exciting lesson plan that we can complete and work through together.
[email protected]
Frequently Asked Questions
How much do lessons cost?
My lessons are charged at £15 per half hour or £25 per hour. For students interested in paying via USD, my lessons are charged at $25 per 1/2 hour, $50 per hour. And for students wishing to pay using Euro, my lessons are charged at: €20 per 1/2 hour, €30 per hour.
Where do the lessons take place?
My lessons are taken online via either Skype or Zoom. For more information please send me an email.
What ages do you teach?
Because of the type of vocals I teach, I would recommend starting no younger than age 14.
Do I have to attend lessons every week?
Weekly lessons combined with plenty of personal practice is recommended for the best results, but not essential.
What happens if I have to cancel a lesson?
If you cancel a lesson with less than 48 hours notice you can still be charged for it.
Still have questions?

Get in touch
Location
Online via Skype, Zoom & More
Teaching Space
As all lessons are provided online, you never need to leave the comfort of your own home. This means no worrying about traffic, parking or having to find the location. I find learning from home is a great way to ensure progress being in a comfortable and relaxed learning environment no matter where you are in the world.
Ready to start?
Get in touch now and learn how to craft the metal voice you desire.
Metal Singing Teacher
Jamie Burton